The Ship of 'Ignorants' & One Wise Man
As remembered by Henri van Bentum
Part II - Ceylon and the Gem Mines of Ratnapura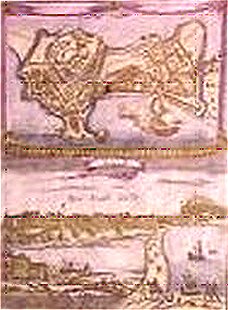 Old Map Of Colombo Harbour, Ceylon
Ananda Bodhi introduced a week of fasting prior to arrival in Colombo. That is, the traditional fasting according to the Order, meaning no meals served after the Noon-hour. Although the Bhikkhu gave daily discourses on Buddha Dharma, he now also stepped up the sharing of his vast expertise and knowledge about precious and semi-precious gemstones.
He had already touched on the subject while teaching in Canada, but now the moment of truth was about to arrive. We were going to visit the mines of Ratnapura on the island of Sri Lanka - then still called Ceylon - our next port of call. Ananda Bodhi emphasized we should get acquainted with our 'birth stone', so that at least we would all get our own zodiac gemstone.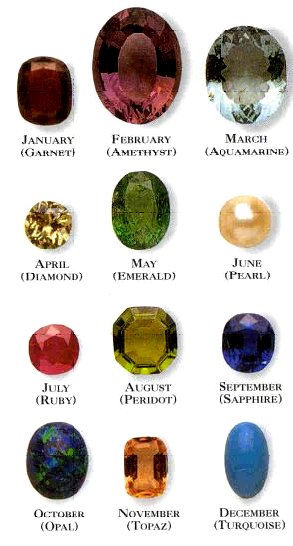 The clear, starry nights while sailing the Indian Ocean provided many a night of celestial teaching. It being his nature, Ananda Bodhi not only talked about the constellations overhead but wandered off to discuss the early stargazers and astronomers, from desert dwellers and the Egyptian Pharaohs, to the first star- guided navigators. He then moved again to gems, such as the star ruby and star sapphire. We were told what to look out for - such as the clarity and chatoyancy of the stone, how the star had to move when the stone moved. If not, the "staying put" of a star indicates a synthetic or imitation stone.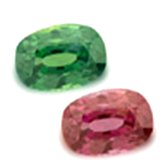 The precious, rare and remarkable Alexandrite, green in daylight and reddish-brown in electric light
Also the Bhikkhu went to great lengths to describe and explain the very rare Alexandrite, which we might get in Ratnapura. Because of its remarkable nature, being reddish-mauve or brown under incandescent light and green in daylight, he termed it the 'stop and go' gem. It is a very hard and durable stone, being 8½ on the Moh scale - diamond being the hardest, at 10. This gemstone is the birthstone for Gemini. We had two Gemini's amongst us - Tony Olbrecht/Sonam - and the late Irwin Burns.
May I mention at this point that both my grandfathers were diamond-facetters in the Netherlands, while my maternal grandfather was also a diamond cleaver. My father, likewise, was a diamond-facetter. The term "diamond-cutter" is not correct, we say "facetter". So I was aware of things such as carat weight, spectrum presence, and durability - diamonds being the hardest as I mentioned, 10 out of 10 on the Moh scale. This combined with my familiarity and experience with colour as an artist, made these unique discourses on gemstones and their connections with the ancient Mysteries more than just a passing interest.
The week before our scheduled arrival in Colombo was in many respects the most disciplined up to that moment in our voyage. We had 8-hour meditation sessions! And yes, for those readers who know Part One of this journal, we continued to listen to our meagre collection of classical music - in addition to the "Rite Of Spring" by Stravinsky, "Afternoon Of A Faun" by Debussy, and "Carmina Burana" by Carl Orff, we had the 4th piano concerto by Ludwig van Beethoven. By now, we had all slowly but surely memorized the Debussy and van Beethoven works; the others were more complicated.
Meanwhile, we followed diligently all the given instructions I described in Part One of this journal: we took showers with a friend, ate the bleached lettuce, and kept some apples. Upon approaching Colombo, cargo ships and small fishing boats appeared on the horizon. Just one day before arriving in Colombo, the Captain told us there was a strike in the harbour! We'd have to anchor offshore. More than ever, food and water had to be rationed with strict discipline.
No sooner had the anchor dropped than several small boats surrounded us - merchants and vendors with all kinds of wares and goodies for sale. Cigarettes, brandy, whiskey, woven, painted or batik fabrics - yes, even precious and semi- precious gemstones were on offer. Bargaining was conducted from deck to the noisy and eager vendors; merchandise was raised and currency lowered in woven baskets.
Colourful and tempting as this was, we waited until going ashore. The crew, however, did purchase from the vendors, including fresh oriental vegetables snapped up by the ship's cook. After two days of looking at the port and dock of Colombo while at anchor, the Captain was allowed, through negotiations with the strikers, to have his ship tugged to the dock, under one strict condition: no unloading or loading of cargo until permission was granted.
He was given this privilege of docking because of we ten passengers. The unexpected strike would allow us bonus time on the Island. Not only would we go to Ratnapura, but we could also visit Kandy, the Temple of the Tooth of the Buddha, criss-cross the beautiful island and relax at remote beaches.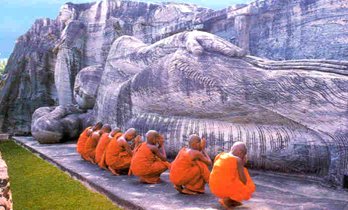 Reclining Buddha, Sri Lanka (Ceylon)
At this point in time Ananda Bodhi donned his robes for the first time on our voyage, much to the surprise of the Captain and crew! We now had firm land under our feet for the first time since leaving the port of Genoa. With our wobbly sealegs, it took some time to get used to! We rented cars with Buddhist drivers - obvious by their long white skirts. The Sinhalese paid respects to Ananda Bodhi, now is his official Bhikkhu attire.
Our Teacher's first aim - visiting the monastery where he had previously studied. As a courtesy to the Order we had to get there before Noon, since no meals were being served after that until the next morning. The apples we had saved were put to good use. All the taxi drivers got a few and were very grateful. Never in our experience had just a few apples been so warmly received!
On our way to the monastery Ananda Bodhi ordered the cars to stop, along a hot dusty road. He had spotted a 'fruit' stand. I had the honour to bite into what he called 'the local apple'. I did, but also spat out the first bite. It was like biting into a layer of fine, sour sand. Much to the delight of the Bhikkhu and our group. "Now you know", he said, "why I asked you beings to keep those apples." A few others tried to same thing, all with the same reaction. There is absolutely no juice in those Sri Lankan apples!
Anyway, we reached the monastery before Noon, allowing the Teacher to have lunch with the other monks. We had to wait until they'd all finished, when we were served a frugal but nourishing bowl of food - but in a hurry, it was almost Noon. Later on the Bhikkhu would make up for it, when we had a delicious lunch the next day in Kandy. Tasty but very spicy. While writing these lines, I can still feel the tears in my eyes. Cool beer helped a bit, but more so the patties and yoghurt.
We visited Adam's Peak, where the tea plantations are located, as well as historic Kandy and The Temple of the Buddha's tooth. We spotted many elephants bathing in rivers, observed giant fruit bats (flying foxes) hanging in trees, and continued to sample the appetizing Sinhalese cuisine - be it breakfast or lunch, but now we were a bit more adapted.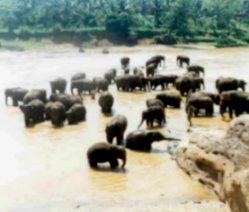 Elephant bathing, Sri Lanka (Ceylon)
It felt like we were travelling into the past, at the time of Rudyard Kipling, through all those quaint villages and the lush green interior. We rested and bathed at deserted coconut-palm beaches before heading to the gem haven - the mines of Ratnapura. The strike at the docks would last at least a week, so we had ample time. A good thing, since visas were required for Burma. The ambassador at the Burmese embassy came out to pay his respects to Venerable Ananda Bodhi.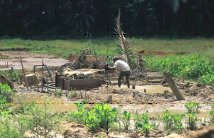 Working the gem-bearing streams, Ratnapura
We arrived at Ratnapura on a very hot and humid day. The gemstones are found in clay deposits in gravel pits and in riverbed sediments. Workers spent endless hours in the scorching heat scooping clay into flat baskets. They tossed them up the riverbank to their overseers, the 'connoisseurs', who in turn emptied them onto heaps of dried earth. After drying in the baking sun, raw gemstones were separated from the ordinary pebbles with the speed and ease of chickens pecking amongst gravel at kernels of grain.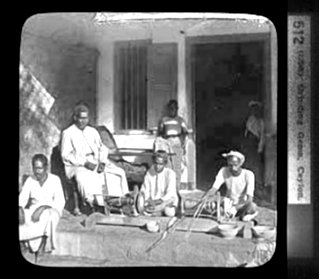 Gem Polishing, 19th century, Ratnapura, Ceylon
Next the raw gemstones were facetted and polished the ancient way by foot-driven wheel, after which they were selected, weighed and put on sale in a large showroom. The huge ceiling fans tempted us to go inside, a welcome relief from the scorching heat. A mixture of both precious and semi-precious gems - along with imitation stones - was laid out onto a long table covered in white linen.
Visitors were closely watched by several security guards and of course, the salesmen. Ratnapura in those days, was one of the few places on earth where the rare Alexandrite and Chrysoberyl Cat's Eye gems could be found. The Alexandrite is, as I mentioned, sometimes called the 'stop & go' jewel because it's green under daylight and reddish- mauve or brownish under incandescent light.
Visitors were left to their own devices in selecting their gems. It was a matter of policy that no advice is given to purchasers. The buyer is totally and utterly responsible for what they select, based on their own level of taste and know-how. Since precious, semi-precious and synthetic stones were displayed together - buyers had to beware. This is what made the Ratnapura experience so unusual, and unthinkable today, when regulations require everything to be labeled indicating type of stone, carat weight, price tag, etc.
Ananda Bodhi was understandably the first one to review the vast collection and select from it. Alexandrites, tourmalines, zircons, garnets, Chrysoberyl cat's eyes, sapphires and more were all displayed. Sonam, being a Gemini, got a rare Alexandrite. He recently told me he has never taken the ring off. We all had our turn. Myself, I selected a beautiful, large blue- sheen Moonstone, a 'one of a kind', a peridot (my birthstone), along with a Chrysoberyl cat's eye, and some tourmalines.

Chrysoberyl Cat's Eye - a rare and precious gemstone, not to be confused with the common tiger's eye quartz
It is a known fact that even today the riverbeds and clay deposits at Ratnapura bring forth an abundance of stones. Tourmalines, in their wide range of colours, are the most commonly found gemstone on the site. You could say that other than diamonds, emeralds, pigeon-blood rubies, cornflower blue sapphires, opals, lapis lazuli and precious topaz, most gemstones can be found at Ratnapura - including the exotic Padparadscha (Sanskrit for Lotus Blossom), with its lotus blossom colour, which at the time of our visit was not available.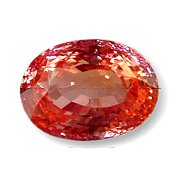 The precious Padparadscha (sapphire), found only in Sri Lanka, featuring the delicate pinkish-orange colour that resembles a Lotus blossom - hardness of 9 on the Moh scale, being Corundum.
After being exposed to this variety in such quantity and quality, upon leaving the showroom in the blinding sun, my eyes flickered still from all the colour and glimmering stones. It was at Ratnapura that the late Irwin Burns (wherever you are, old friend) succeeded in buying an artificial Alexandrite and a synthetic star sapphire amongst the other stones he purchased. Not long after he had it set, Irwin lost the Alexandrite ring in a mild undertow while swimming at one of the beaches. Goes to show you, that even after all the lengthy discourses on gemstones by the Teacher, including what to look out for, it's still possible to get caught buying fake stones, right at the source where the real ones are to be found.
Expensive error in judgement? It must be said, that it isn't easy to see the difference between a genuine star ruby or sapphire and a fake one. With the Alexandrite it's easier to tell, since it should be green in daylight and reddish in electric light. However, later on board when Ananda Bodhi made him aware that all the other gemstones he had were genuine, Irwin was so pleased that he promptly gave a few of them, for dana to the Teacher.
We still had extra days to spend due to the strike at the Colombo docks. Ananda Bodhi made it known that we could get our stones, preferably the birthstone, set in Colombo prior to our departure for Rangoon. Some of us just did that. One of our driver-guides recommended a reliable goldsmith amongst the many to choose from. I spotted a beautiful star-ruby in a ring. It fitted this Leo perfectly. Many years later, I had the cat's eye set into a ring which I still have to this day. That was 34 years ago. Alas, I don't have the star ruby any longer. It is not my intention to go into the multifold merit of studying gemstones or their healing qualities; once the mind's eye, the soul, sees beyond monetary values - they open up a world of undreamed dimensions and vistas.
Another mishap befell one of our group. She was approached at the Colombo market by a so-called money changer. The black market offered many more rupees than the going bank rate. She had $50 U.S. changed into rupees in the crowded market. When she went to make use of the money, she discovered to her shock that only the first 2 and last 2 bills were real, the rest of the bundle were all fake. By then the 'money-changer' had long disappeared into the crowd. Such befalls the unalerted one in the Teaching of Awareness.
The final evening prior to our departure for Rangoon, we all shared our newly- acquired possessions, prompting Ananda Bodhi to give us more profound insights into the gemstones we had now purchased. The strike was over, cargo taken care of and anchor lifted. Goodbye Ceylon. Bay of Bengal, here we come! Coming up: Part Three - Burma, Rangoon and the Shwedagon Temple, then Continuing on to The Ganges & Calcutta, India.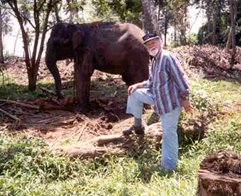 Yours truly recently returned to Sri Lanka as a guest artist & lecturer aboard an around the world cruise (Colombo was one of 35 ports of call), thirty-two years after the pilgrimage with Ananda Bodhi - visiting the elephant orphanage.